While a student at Hamline, I engaged as a member of a dynamic team of professionals dedicated to increasing the visibility and reputation of Hamline University through digital and print collateral by interning with their Creative Team in the Marketing and Communications Department.

As an Intern, I was able to carry-out responsibilities such as the creation of images and graphics for web, print, and digital signage, conduct small scale photoshoots, file/archive print samples and digital files, assist in production work, and contribute to a campus-wide re-brand.
Branded Powerpoint for the President's 2019 Spring Board Presentation. 
Homecoming logo concepts // Informational handout for graduate workshop
"The Kay Malmstrom Lecture in Physics is an annual symposium 
on contemporary issues and research in physics."
2019 lecturer, Michael Kosterlitz, was a Nobel Prize winning physicist who, throughout his life, avidly scaled mountains and conquered boulders, all while on the path to pursuing his physics endeavors. I was honored to create the digital and print collateral for Michael's lecture, and it was a fun experience combining my own knowledge of science with how I approached this particular design.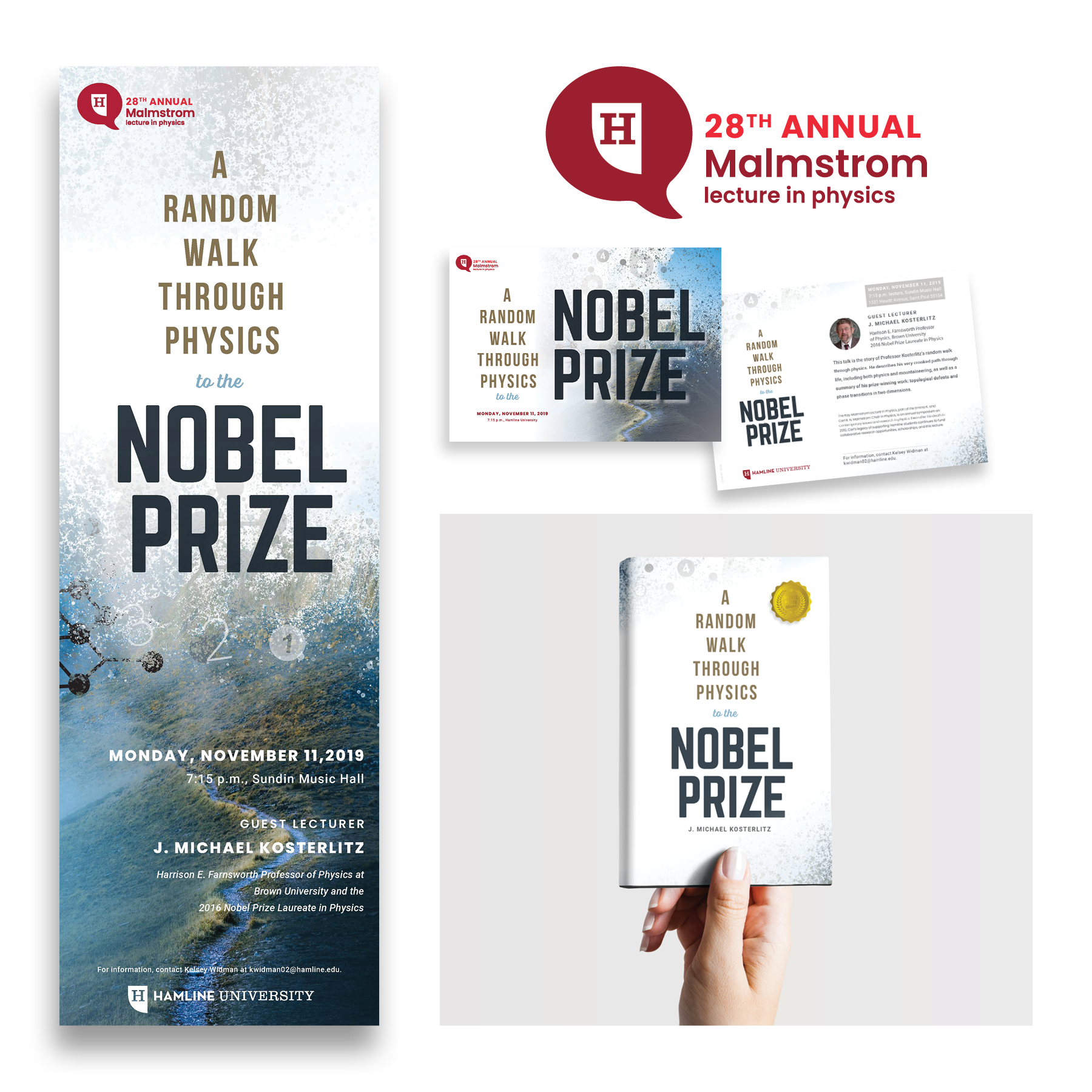 Sports schedule for distribution at the MN State Fair. Original version was an 8.5x11 sheet of paper, revised version is printed on the same size piece of paper, front and back, which allowed us to print double the amount for the same price. The smaller size works better for people carrying it around while at the fair, and I advocated for it to be printed on card stock paper for greater durability and to increase longevity. 
                      Poster concepts designed for annual chemistry and physics lectures. 
Postcard and advertisement ideation for a social gathering of neighbors near the Hamline Community. Over 500 friends, families, and students showed up for a free ice-cream treat!
Postcard invitation for Sundin Music Hall's spring concert.
Postcard I posed for and created to be sent to prospective transfer students (like me!). 
Animated email banner created to match the 2019 President's Holiday card.